Walk-In Immunization Fridays
Walk-In Immunization Fridays and Elderberry Sale
No appointment necessary on Fridays in October and November for immunization only appointments.  In addition to all the the standard childhood immunizations, we now have in stock  the flu vaccine for children under 19 years old.  For adults, we stock Tdap and MMR.  Anyone in the community may come in for an immunization, even if you haven't been seen here before.
Flu Prevention
Regardless of whether you choose to get a flu shot, there are simple steps that you can take to reduce your chance of getting the common cold or the flu. See Dr. Murdoch's article for 5 tips on preventing colds and flus.  All Elderberry products are 30% off on Fridays.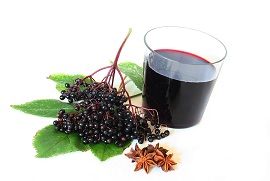 The CDC recommends that everyone 6 months of age and older should get a flu vaccine every season. The flu vaccine has a greater chance of being effective if you get it earlier in the season (October or November).
For those who choose to have their children vaccinated, these are the options available at TRFM:
Fluzone Quadrivalent Shot for age 6-35 months (thimerosal free)
Fluzone Shot for children 3-18 years (thimerosal free)
FluMist Quadrivalent Nasal Spray for age 2-18 years (thimerosal free)

*

Back ordered,

 

national shortage, out of stock until late November
People who can't get the flu shot:
Children younger than 6 months are too young to get a flu shot
People with severe, life-threatening allergies to flu vaccine or any ingredient in the vaccine. This might include gelatin, antibiotics, or other ingredients.
People who should talk to their doctor before getting the flu shot:
If you have an allergy to eggs or any of the ingredients in the vaccine. Talk to your doctor about your allergy.
If you ever had Guillain-Barré Syndrome (a severe paralyzing illness, also called GBS). Some people with a history of GBS should not get this vaccine. Talk to your doctor about your GBS history.
If you are not feeling well. Talk to your doctor about your symptoms.
If you have a history of asthma or wheezing. Talk to your doctor about what flu vaccine is appropriate for you.
Whooping Cough Vaccine (Tdap)
You can help protect infants from whooping cough by making sure that those with close contacts (including parents, grandparents, siblings (aged 19 years or older), child-care providers and health care personnel) are up-to-date on their Tdap vaccine. This strategy is called cocooning. The CDC recommends that all adults 19 years or older should get one dose of the whooping cough vaccine (Tdap vaccine) at least 2 weeks before contact with an infant.
Tdap is also recommended for all pregnant women in their 27th-36th week of pregnancy to provide protection to their babies while they are still too young to receive a pertussis immunization.
People who should not get the Tdap vaccine:
People with life-threatening allergic reaction to any part of this vaccine
Anyone who had coma or long repeated seizures within 7 days after dose of DTP, DTaP, Tdap, should not get Tdap, unless a cause other than the vaccine was found.  They can still get Td.
Talk to your doctor if you:
have seizures or another nervous system problem,
had severe pain or swelling after any vaccine containing diphtheria, tetanus or pertussis,
ever had a condition called Guillain Barré Syndrome (GBS),
aren't feeling well on the day the shot is scheduled.
Measles, Mumps, and Rubella  (MMR)
MMR vaccine is recommended for all children at 12-15 months and again at 4-6 years of age. One dose is also recommended for all adults >18 years born after 1956 unless they have proof of previous vaccination or disease.