Take a Walk with a Doc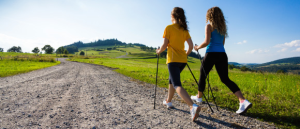 Lace up your shoes!
Join Dr. Jodie Murdoch every Tuesday at 4:30pm at the Carnation Farmers Market for a 30 minute walk.  The first 5 participants will get $1 in Market Bucks for the Carnation Farmers Market every week!
All levels, ages, and abilities are welcome.  The walk will take place rain or shine.  No preregistration is required.  There is no cost.  Just bring yourself, any questions you have for the doctor, and a water bottle.  If you like, bring a friend.
Why should you Take a Walk with a Doc?
Because it is fun!  Also, walking is accessible and affordable. dWalking for just 30 minutes per day reduces your risk of many health conditions including heart disease, diabetes, high blood pressure, depression and cancer  It also gives you or your friend a chance to talk with a doctor about a health topic of interest to you.
We hope to see you there.